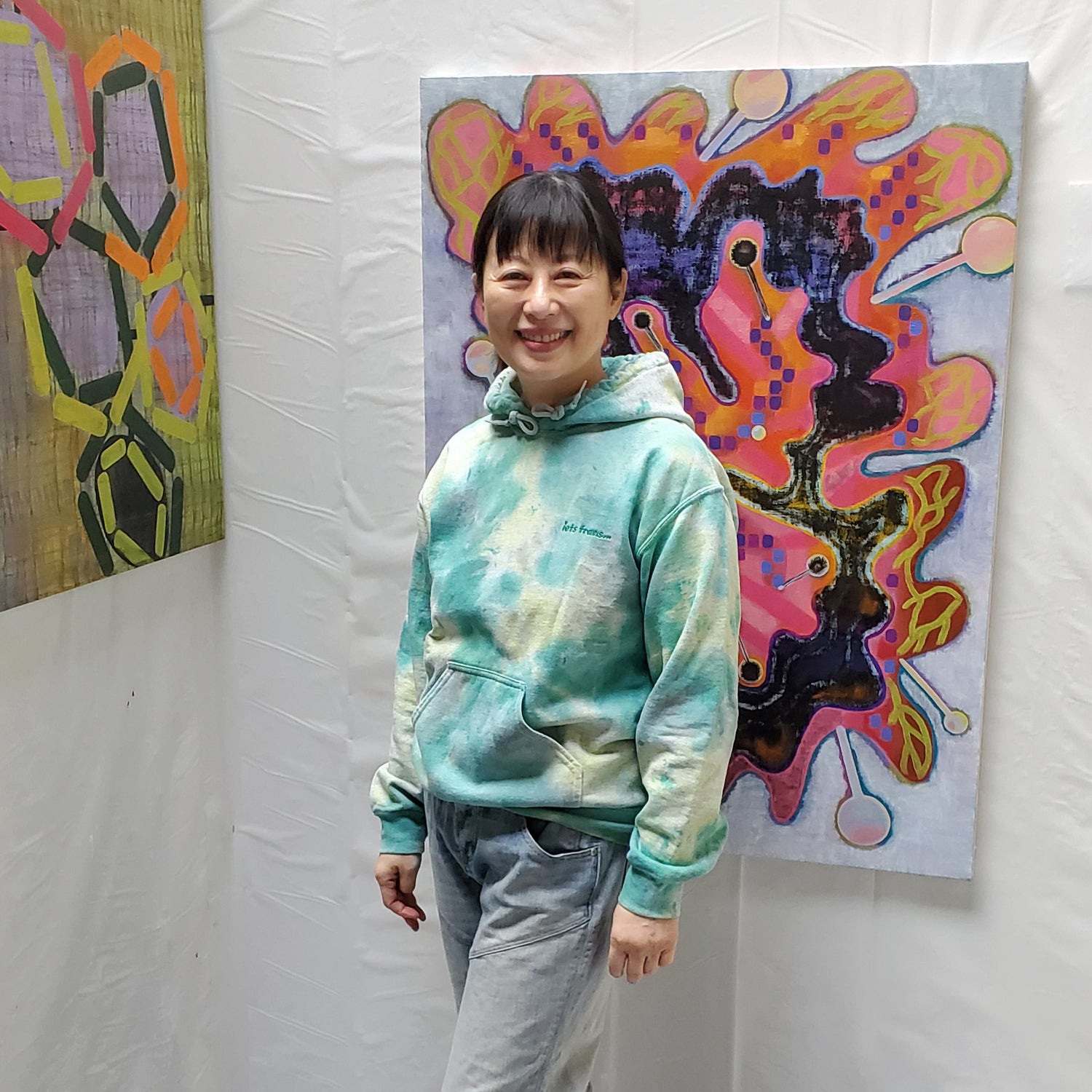 Tell us about yourself & how you became an artist
I initially studied fashion. After a couple of years in the industry, I got disillusioned and transitioned into graphic and web design. While studying graphic design, I started painting with oils and I was hooked. It did not cross my mind before to be an artist but after some soul searching, I decided to follow this path. My nature is introverted and being an artist allows me to express myself.
What is your art addressing? What kind of message do you want to convey through your art?
I like to engage the viewer and spark curiosity. While I like to draw the viewer in, at the end I paint for myself to get my inner emotions out.
What is your creative process?
I do not follow a particular plan. I have a cluttered mind that needs organizing. I start with composition, color of shapes and form on the canvas. I have a sketchbook that I sometimes refer to. My most successful works are spontaneous or by trial and error. My creative process is part subconscious, part planned and part spontaneous.
"My creative process is part subconscious, part planned and part spontaneous."
3 words to describe yourself as an artist
focused, emotional, introvert
3 words to describe your art
colorful, geometric, strong
VIEW WORKS FROM THIS ARTIST
Your go-to music for when you're working?
Jeff Buckly
Favorite movie or show?
The Matrix
Favorite color?
Pink, Orange
Do you have a routine or ritual for when you're working?
Go with the flow
Where / When / How do you get inspired?
I get inspired by observing the world.
What impact does living in New York have on you?
New York is eclectic, hectic and lively. The energy is contagious. I love the ability to go out and be in the middle of it. I feel free and unrestricted. I hope this energy manifest into my work.
How has your art changed throughout your career?
Looking back to my first works, they were representational based. I progressed to a more fluid and abstracted view of my life.