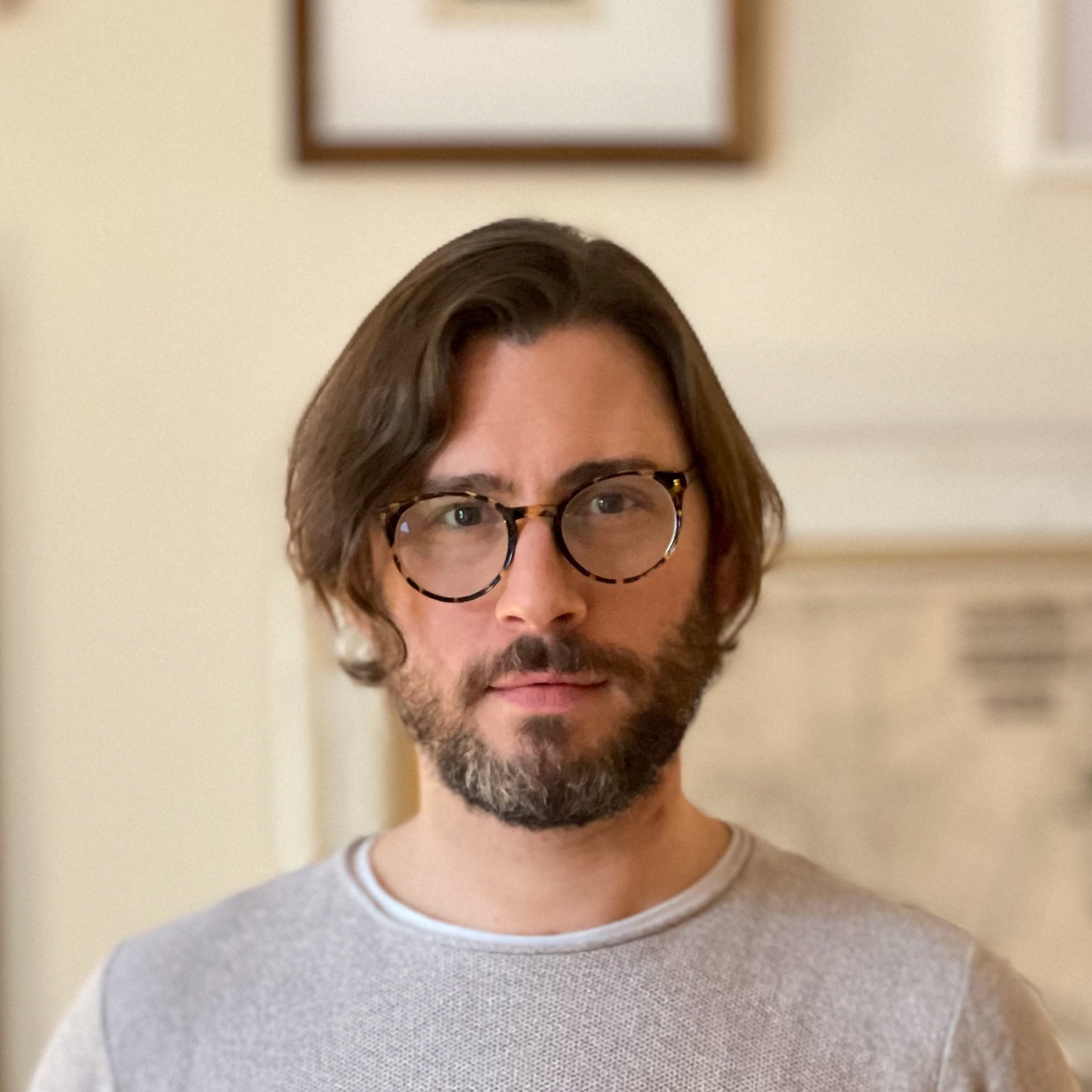 Tell us about yourself & how you became an artist
As a kid I drew with my friends every chance I got. I started drawing from life—trying to capture the essence of three dimensions on paper. I went to an intense art high school—think Whiplash for art. They pushed us to develop technical skills quickly. In college, I began combining video and painting, but I was frustrated by the technology available. Plus, I was still searching for my point of view. It wasn't until my late 20s that I developed my art practice. I realized I shouldn't worry so much about the end-game—just focus on expression and release. The rest came naturally.  
"I realized I shouldn't worry so much about the end-game—just focus on expression and release. The rest came naturally."
What is your art addressing? What kind of message do you want to convey through your art?
I'm fascinated by interactions between people and how those interactions inform the inner self. In my more straightforward figurative work, like "One More" or "Homecoming 1997", I'm drawn to the expressions on the subjects' faces. I study the interactions in the scene and draw on empathy to capture their emotions. In my more recent work, like "Look" or "TIme", I am investigating the underlying themes that drive those internal monologues to give them shape.
What kind of emotions do you want to stir in your audience?
The first word that comes to mind is meditative... For me, that doesn't just mean pretty and soothing—it means letting the work bounce off your own inner self, and seeing what it helps you call up and process. To that end, some of my work is quite peaceful and relaxing, and then other times I like to dive into things that are a little more challenging like political or social issues.
What is your creative process?
I usually start with source material—a picture I've taken or a moment that caught my eye on the internet... and then I'll lay down a loose underpainting. I like to let the themes emerge rather than going in prescriptive. At some point, I'll usually take a photo of the painting and bring it into photoshop, and begin reworking the composition. Sometimes I'll work back in with aggressive marks—painting over entire sections. Often, this process will continue for years. Many of my peices have three or four completely different iterations underneath the paint.
3 words to describe yourself as an artist
Empathetic, Curious, Contemplative
3 words to describe your art
Emotion, Movement, Nostalgia
Your go-to music for when you're working?
All kinds—depends on my mood and what part of the process. If I'm getting into detailed rendering, I like atmospheric stuff, like Khruangbin or the classics—Pink Floyd, Doors, Stones, Zeppelin. If I'm ideating or laying down underpaintings, I go for something more soulful—Sam Cooke, Howard Tate, Gladys Knight... and lately some neo-soul like Leon Bridges or Michael Kiawanuka. Then if I'm really getting expressive I'll go hip-hop—Pharcyde, De La Soul, Gangstarr, Kendrick, Killer Mike.
Favorite movie or show?
Hard to name one so I'll give a few... movies: Boyhood, Spirited Away, Mulholland Drive. Shows: The Wire, Mad Men, Rick & Morty
Favorite color?
Yellow
VIEW WORKS FROM THIS ARTIST
Do you have a routine or ritual for when you're working?
I don't know about a specific routine. I like to strike a balance between everyday art practice and deep-dive studio sessions where I give myself the time to get a little wild. When I can, I like to work late into the night to avoid distractions. There's something really interesting that happens to your creative process when it's been hours and hours since you've interacted with another person.
Where / When / How do you get inspired?
I go through different phases of inspiration. When I'm going through major personal upheaval in my life, my art tends to turn inward and reflect my emotions. When life gets into a more even rythm, I start to focus on the interactions between people and finding balance. When there are a lot of difficult things going on in the world (and really, when aren't there?), my work tends to address questions around equality and justice.
What makes you happy?
Peaceful, joyful time with family and loved ones. For me, everything revolves around that. Great art, great literature, great music are all incredible—and I'm an introvert at heart so I can stay happy as long as I have those wells to tap... but to me, it's ultimately about getting to share that stuff with the people you love.
What impact does living in New York have on you?
I've lived here for almost 20 years now—basically my entire adult life. At this point, it's gotten a little hard to pull out the "me" from the New York "me"... but I would say the biggest impact has always been the energy.
How has your art changed throughout your career?
I think my art has changed pretty dramatically over the years. I'm so curious about different aspects of art and life that sticking to one style or subject feels limiting.
VIEW MORE WORKS FROM THIS ARTIST