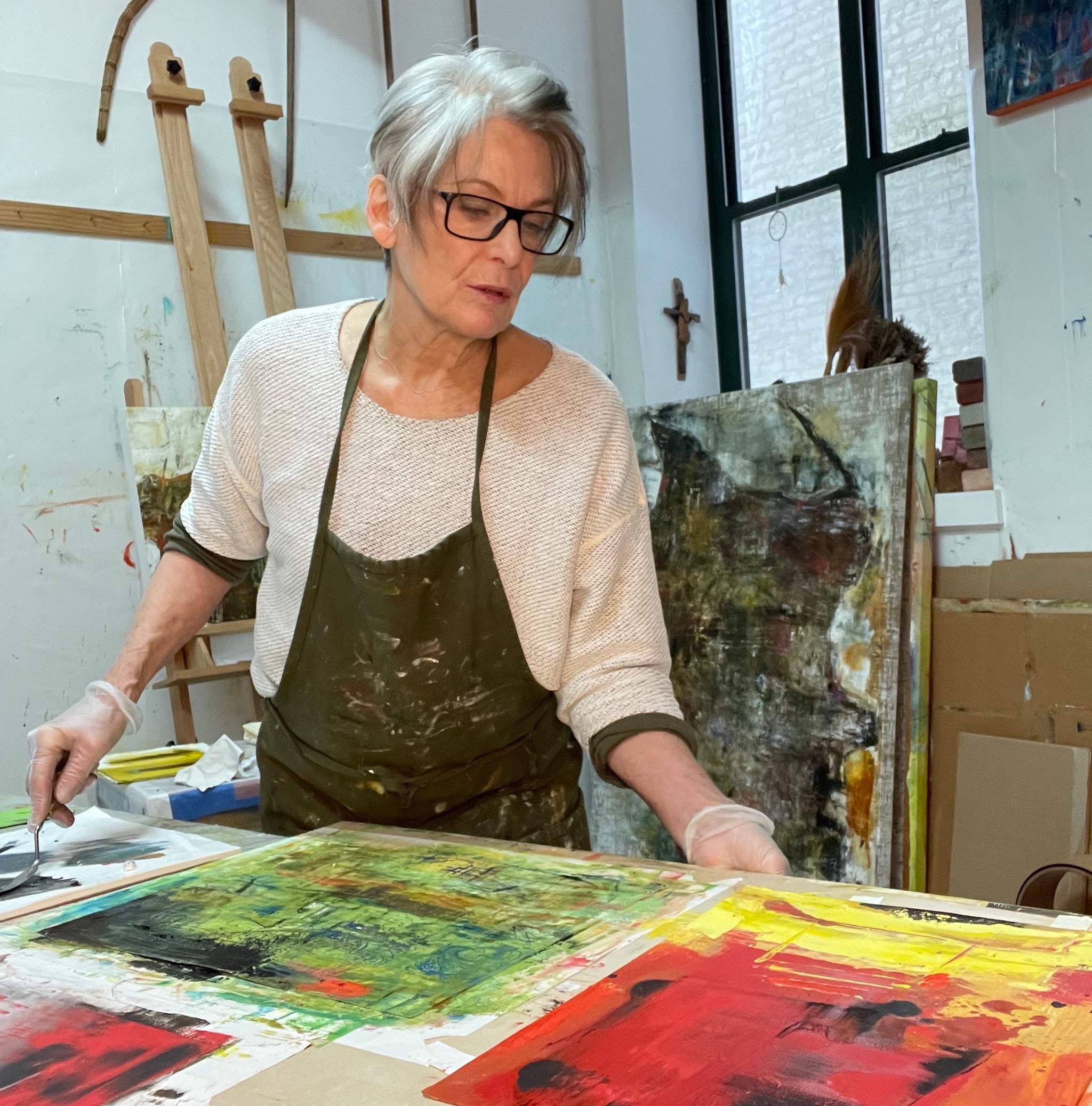 Barbara Groh's art is highly personal and reflects her life experience through various mediums. Groh, who holds a MFA from Vermont College of Norwich University, has shared her knowledge through teaching as well. Read on to learn more about her creative practice. 
Tell us about yourself and how you became an artist?
One thing I have is a gift for creating art. My mother was involved in the arts and supported me as a child in art classes and projects. My personal style developed from Abstract Expressionism and the visual power of paint on canvas. I continued my focus in high school and art college, and it remains the same today, many years later.
What kind of message do you want to convey through your art?
I explore visual experiments in the studio. I strive towards transforming a state of mind, infusing living energy and intuition into a physical reality. I aspire to have my work affect others as I have been by provoking thought, emotional experiences, moods, and aesthetic pleasure.
Is there a certain emotional experience you want to stir in your audience?
As my work is primarily abstract, the viewer is free to feel whatever comes to them and to see what they see. Are they reminded of a place they know, a color that they are feeling now, or is their story personal and separate from my own?
What is your creative process?
I love experimentation and anything new. I am surrounded by collected materials: bricks and dirt, scraps and stuff from my travels and my daily life outside the studio. Then I begin to paint, glue, grind, melt and scrape until my mood and experiences are transformed into physical being.
What 3 words would you use to describe yourself as an artist?
Curious. Spontaneous. Observant.
What 3 words would you use to describe your art?
Abstract. Contemplative. Deep.
Your go-to music for when you're working?
I listen to my own playlist or my favorite Pandora tunes: world music, rock n' roll, classic and classical, instrumental, weird…as long as it's good!
VIEW WORKS FROM THE ARTIST
Favorite movie or show?
I like well-acted and written dramas, either on TV, stage, or movies. I love the same in comedy…it must be seriously good. Three old movies I have watched many times: Babette's Feast, Runaway Train, and Pricilla, Queen of the Desert.
Do you have a favorite color?
How can you ask an artist that question? Depending on the tone, hue, value, and chemistry: Orange.
Is there a routine or ritual you do when starting a work?
When I settle down to work, I light a candle, go through some research, inspiration, photos, and such, and begin. Depending on the time of the day, I also pour a shot of tequila or a cup of tea. I play my music and pray to the universe that I'm in the "zone".
"I play my music and pray to the universe that I'm in the "zone"."
Where / When / How do you get inspired?
I receive inspiration from my environment, always. Landscape is a primal presence for me. I explore by walking in diverse environments and return to the studio to transform my experiences into physical being. These inspirations can happen just outside my studio door or in distant lands with unfamiliar landscapes and cultures.
What makes you happy?
The natural world makes me very happy. The light, smells, textures, and magic are forces to behold. Great art, be it visual, performing, musical or other makes me happy. A good book, a warm bath, and a good night's sleep are high on my list!
What impact does living in New York have on you?
Good question: New York streets have become and continue to be my landscape, walking is my transportation, the graffiti, the detritus and the remains of the day are my inspiration. I notice sidewalks splattered with paint, cracks in the pavement sprouting nature and hope, walls crumbling while beautifully layered and colored, and unexpected bursts of humanity.
What do you want people to know about you or your art that we haven't asked?
The build-up of different color experiences inform my work - the mist in Sweden, sand on the beach, dirt from special locals, the blinding light of the ocean, paint chips in the subway, etc.... they find their way onto my canvases, evoking memories of a place and time.
VIEW MORE WORKS FROM THE ARTIST