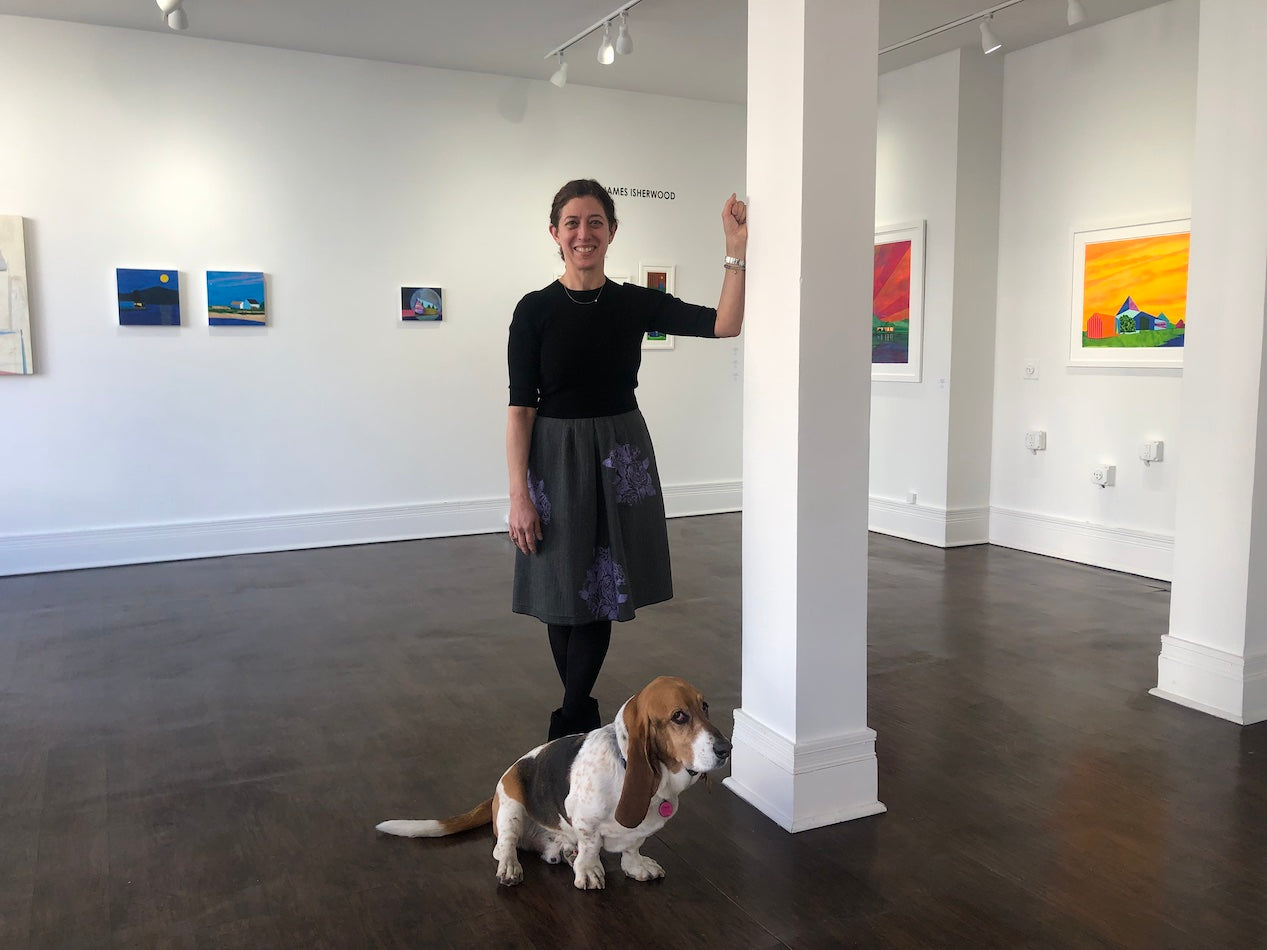 Susan Eley with her dog at SEFA's Hudson location, 2022, courtesy of the gallery
As Curina continues to expand our gallery partnerships, we are excited to welcome Susan Eley Fine Art (SEFA) to the platform! Katy Hamer had a recent phone call with the gallerist who was in their Hudson location, currently showing artist Sasha Hallock. Their conversation is below.
You founded the gallery in 2006. How have you seen the art world change in the last sixteen years, for better or worse?
It's definitely changed for the better. You've probably heard this from a lot of dealers, which is that the explosion of the digital world has had a positive impact on dealing in art. When I first opened the gallery, I had a brick-and-mortar space and very quickly started to do art fairs. At the time, art fairs were the only option outside of what I was doing in the physical space. The first online art platform I joined was Artsy and then soon after that 1stDibs. While it took a couple of years for those to get going and for our gallery to have traction, I knew that this digital model was going to be a game-changer for the art world. I don't only have to rely on my limited wall space for visual art and now have virtual walls.
Many of the artists who have been with me from the beginning are so prolific and that's one of the reasons I love them. They're always making art. I don't have enough time in my exhibition calendar to give them. Now it's possible to do exhibitions through online viewing rooms, which have become more and more refined. Collectors are able to trust that when they see in digital imaging and know it's going to be quite accurate. The pandemic has shown us new options by saying, "look, you can sell art another way and you might not have to fly to another state to do an art fair." That's been my experience.
What would you consider your biggest success as a gallerist?
My biggest success as a gallerist would be my relationships with my artists that I have cultivated for sixteen years. Many of them have stayed with me, grown along side of me, and have found a home with us. Everyone gets involved, including my small staff, who have their own separate relationships with the artists and that's been very, very important to me. It's the same thing with my collectors. I love to socialize with many of them, and sustaining these relationships has been another very gratifying success.
Having a gallery in the Upper West Side, and in Hudson, New York, are two of the best locations one could hope for. What can you tell us about each? Are the clients different based on location?
I've had the Hudson gallery for two years, opening in July 2020. My husband and I have a place in the Catskills, about an hour west of Hudson, and retreated there when we had to close the gallery in New York City during the lockdown. I know the area very well, so I started poking around to see if I could get a short-term lease. I got a 7-month lease and then I was able to extend little by little. I've just signed a two year lease.
I'd like to think of there being sort of a corridor between SEFA New York and SEFA Hudson. I meet a lot of people in Hudson who have second homes and want to see art. I have the majority of our inventory in New York City, so I'll often make an appointment for the next time they're in Manhattan. There are people in Hudson who I continue to sell to while they are in New York City, and vice versa. I have clients in Boston, too, and Hudson is also a stopping point for them.
There were so many people who came from New York for Upstate Art Weekend this year. Helen Toomer (Stone Leaf Residency and Upstate Art Weekend founder) has done a phenomenal job on building that program.
Installation View: Flora Inhabited, 2022, Ellen Hermanos, Angela A'Court
Trends in the art world fluctuate. Since you show mostly painters, a medium that is in high demand again, have you felt the rise and fall of the art market over the years?
I sell on the primary market, not on the secondary market, and most of the art that we sell retails between $5,000 and $10,000 and that price-point has been accessible. There was definitely a downturn in 2008/2009, but I didn't even notice it that much, because while people were maybe not buying the $20,000 painting at that time, but they were still buying the $3,000 painting because that's adding something to their home. There might be a graduation gift for their daughter, or something for their second home. I haven't seen any downtime for the most part. Now within my body of artists, some can go out of favor while others are more popular, but that always comes back around.
We are so happy to have you as a Curina Gallery Partner! What do you hope to gain through this collaboration?
Well, first of all, I'm so excited to be on Curina. I think that what you are doing is something new. Over the years I have heard about people renting art but never in such a programmatic way, not the way that Curina has done it. I'm curious to see if that will bring in new younger collectors who aren't ready to make a purchase, yet but wanted to try and this is the platform to do that. Everything always boils down to sales and I'm excited that a young woman started this, and I want to support women-founded initiatives. I think there is room in this growing online marketplace for a new idea and I'm excited to see where it goes.