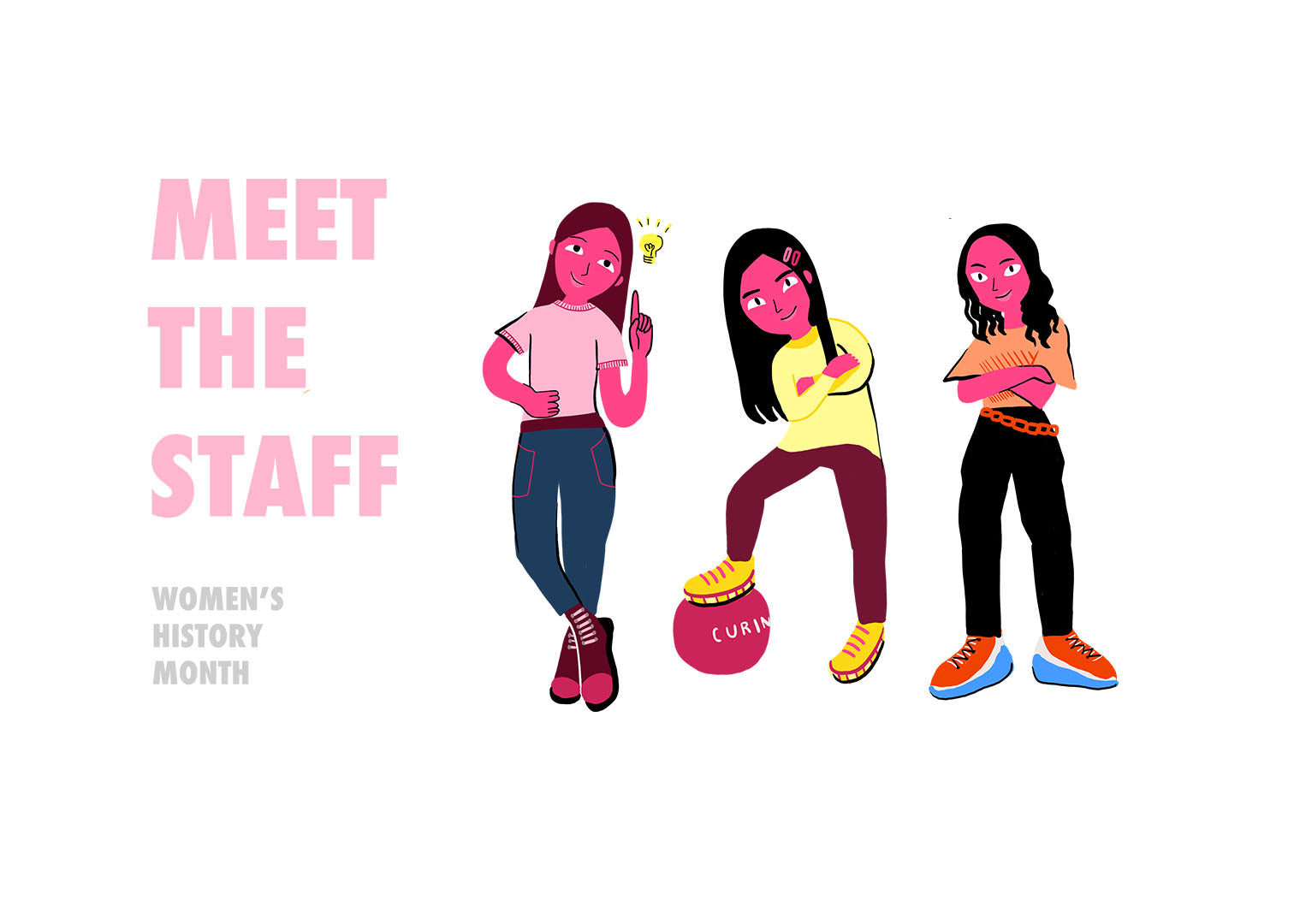 WOMEN'S HISTORY MONTH: MEET THE STAFF
MARCH 25, 2020
Welcome to the second part of our Women's History Month feature.
Following artist interviews earlier this week, Curina team decided it was about time we introduce ourselves for real - starting with the ladies that make this whole thing possible. ‍
‍
Being a woman in the art industry is a strange thing.
On the one hand, visual arts and art history departments are absolutely packed with girls. This writer herself has never seen more than one or two guys in her art history lectures nor at her various art jobs... the struggle is real. This is perhaps because art has long been considered a "feminine" activity as opposed to "masculine" ones like math, science, or even music. 
On the other hand, successful artists, collectors, and curators tended to be predominantly male even until the last decade. Which must mean...women have always contributed a lot to creating, presenting, and disseminating art but did not get credit for it, right? Adding to this problem is the fact that art administrators - people who organize, market, and write about art behind the curtain - get even less credit than artists. 
(For a deeper analysis of this contradiction, try Linda Nochlin's seminal essay "Why Have There Been No Great Women Artists?") 
‍But for now, we would like to start small and share how "art" and "woman" have so far crossed paths in our lives. 
‍
Q. Who's your favorite woman artist? How does she inspire you? 
So many. But for the sake of introducing someone not a lot of people know of, I'd have to say Korean artist Lee Bul (full disclosure: I'm writing a thesis on her, so I'm a bit biased).
She was the OG cyberpunk artist, creating these ivory, hanging, mutilated cyborg sculptures in the 90's. People tend to exoticize female Asian artists, and I love the way Lee Bul resists these categories by reminding us that even memory and sentimentality are skewed by ideology.
Q. What's the most exciting moment from working at Curina? 
Honestly whenever I visit artists for the first time in person, and we find something in common to fangirl about. It's an instant bonding moment - I think that's actually why I started working in art in the first place. 
Q. What's one overrated thing and one underrated thing about being a woman? 
Overrated: The idea that it's cool for girls to be boyish.
I've been told (or implicitly nudged towards) that it's an advantage in life for women to adopt "masculine" qualities. Yes, I'm a t-shirt and jeans kind of girl, and yes, I love hard rock and noise music, but I sometimes wonder if I've chosen those things to stand out among other girls. My project over the past few years has been to enjoy walking, laughing, talking, and crying "like a girl" without that internalized voice in my head.
Underrated: Makeup and personal adornment.
I follow drag queens religiously (I'm arguing that I started watching Rupaul's Drag Race before it became mainstream) and it totally opened my eyes to the power of reinventing yourself. It's a privilege to be able to use tools of fashion and makeup, as long as we're not bound to one way of using them.
‍Q. Who's your favorite woman artist? How does she inspire you?
I really like this Mongolian artist, Uurintuya Dagvasambuu. 
She incorporates a lot of traditional elements and storytelling into her paintings. Her works remind me of what it must feel like to be a young woman in a Mongolian herder's family, living life simply but never more. I think in a way, these feelings ground me and help me focus on my happiness.
Q. What's the most exciting moment  from working at Curina?
Handing out 1000 bananas outside the Met.
I've always been very into testing out unconventional methods for both work and my personal life. So it was refreshing to spontaneously develop a guerrilla marketing campaign and experiment with a *shit* ton of bananas. It undeniably confirmed just how much I enjoy being part of this incredibly creative and fun team. 
‍
Q. What's one overrated thing and one underrated thing about being a woman? 
Overrated: Not having to make the first move.
I've come to despise this century-old view that women have to wait until the guy/girl makes a move. The idea has seeped so well into our beliefs that many of my girlfriends never make the first move even though they're really interested in the person! I think it's important to understand that, as women, we have the right to walk up to someone we're interested in and ask them out for a date. Waiting for them to make the first move is just overrated. 
Underrated: I think women's sexuality is less stigmatized than men's.
I have gay, lesbian and queer friends. Most of the time, I've come to observe that people make less hostile remarks/actions towards lesbian couples or gay women in general. But that is not to say, gay women, don't experience any discrimination at all. I just think the extent to which they're accepted within society is a bit more than gay men.
Q. Who's your favorite woman artist? How does she inspire you?
Maya Lin. 
Her works (majorly sculptures, installations and land arts) always provide me different perspectives to see nature and reflect on my own relationship with the surroundings.
In the "Blue Lake Pass," Lin casted the water volume of a lake into solid and created paths within for people to walk through. This artwork reminds me of Manhattan's cityscape with undulating skyline and organized street grid. It's about the tactility of material and impact on human experience at intimate scale that make the artworks alive.
Q. What's the most exciting moment you remember from working at Curina?
Launching the new website and every time we update the website with new featured artworks. 
Coming from an artistic background, I always know that there are so many talented creators/artists in New York, while the "access to art" seems pretty limited to gallery and museum. By building the online platform, I'm excited about the opportunity to present, curate and share great artworks to a broader audience and bring them closer to people's daily life. ‍
‍
Q. What's one overrated thing and one underrated thing about being a woman?
Honesty speaking, I've never thought of this. And even after reflection on my past pleasant/unpleasant experiences trying to get an answer, I still don't have one. 
Identifying myself as a female together with recognizing my personality and culture background all influence my perception of the world and decisions (sub)consciously. It's part of me and I'm living it. In other words, I feel good, proud and confident being a female and I love myself.