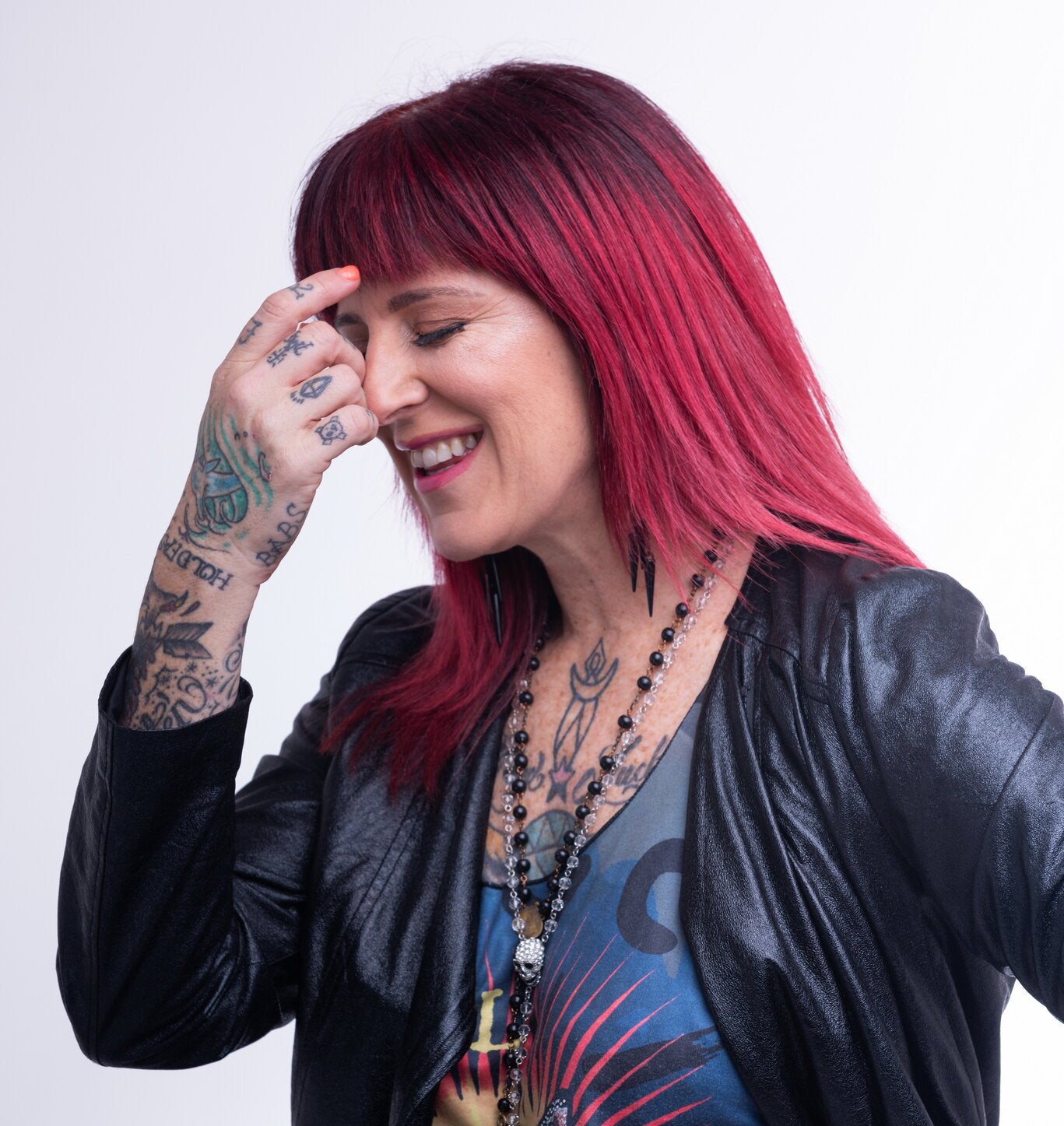 PinkOutLoud Collection presents:
Friday Jones, Mastectomy Tattoo Artist
Friday Jones is known for lush, spiritually-minded images that have adorned canvas both living and still for over twenty-five years. With a deep interest in symbolism, Friday helps her clients stay consciously ahead of the creative curve in what can be a very trendy industry.
She began working with clients for post-operative scar coverage when she met Stacey Watson, a breast cancer survivor, for her first tattoo in 2009. The resulting seashells on Stacey started the leading edge of a genre-breaking trend and created a movement of reclamation. The non-profit charity Personal Ink (P-Ink.org), of which Friday is a board member, pairs survivors with some of the most talented tattoo artists in the world for masterful post-operative scar coverage.
5 things to know about Friday
1.  She legalized tattooing in Montenegro and opened the country's first tattoo shop 
In 2018, in a move inspired by a need to step away from the action of Manhattan life and spend more time in reflection, Friday embarked on an adventure to Montenegro. There, she legalized tattooing in Montenegro and opened the country's first tattoo shop in the lovely riviera town of Tivat, home to superyacht marina. 
2.  She tattooed P-Ink.org founder Karen Richards
Karen Richards is a top-level professional, motorcycle enthusiast and, yes, a big-time cat lover from way back. This shot is from their first #Pinktattooday together at Rising Tattoo in Boulder, Colorado 2014. Pink Tattoo Day is an annual event sponsored by Personal.ink and fxckcancer where tattoo shops across America open their doors and hearts to breast cancer survivors who are ready to cover their scars with beautiful, personal art! To date, P-Ink.org has participated in over 15 cities and transformed hundreds of survivors! 
3.  One of her favorite tattoo designs is... 
One of her favorite tattoos in her thirty-year career is this sensual oak leaf design featuring sculptural elements that invoke ironwork. Iron, like the oak, is an enduring symbol of strength. Included is the oak seed (the acorn) which points to potential, luck, and prosperity.
4.  She is a big-time Pam Grier, Ph.D fan
Friday has been a huge fan of Pam Grier, Ph.D since she became cognizant back in the late seventies. To this day, when she looks around for inspiration, she invariably does an Internet image dig for rare Pam Grier photos which inspired this piece on freedom and transformation. Shyly, she Tweeted the image to Dr. Greer and was rewarded with a shout out and reTweet, the screenshot of which lives on her desktop for now until the end of days!
"The Monarch" 2017 
acrylic on canvas 18 x 36
Painted in New Orleans.
5.  She wants you to fight like a girl
 One of Friday's tattoo work rests on the heroic Sherri who represents the proud passion of "flattoppers" everywhere! These gals opt not to have reconstruction and instead wield their power to change and be changed with a progressive take on feminine strength. 
Check out #PinkOutLoud Collection to learn about how you can contribute to P-Ink.org and Pink Tattoo Day.
Links
P-Ink - https://www.p-ink.org/ 
Fxckcancer - https://www.fuckcancer.org/ 
Friday Jones - http://www.fridayjones.net/