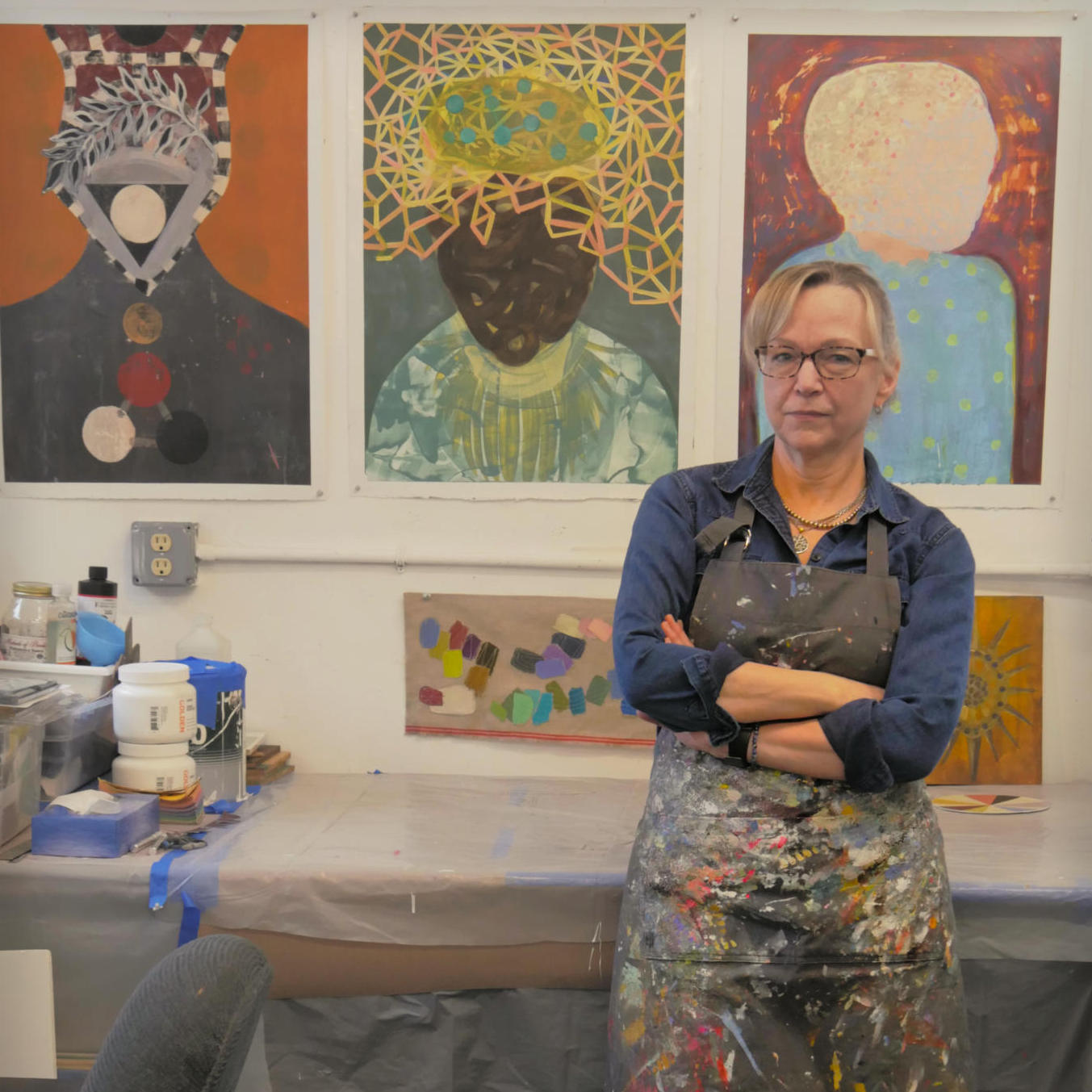 Tell us about yourself & how you became an artist
As a very young child, my greatest joy was drawing and I could lose myself for hours in it. I loved making things and creating color patterns using buttons from my mother's button jar or with paint chips that my dad would let me pick at the hardware store. I never 'became' an artist, I just always was one and always knew it was what I would be when I grew up. After getting my BA in Fine Arts, I couldn't imagine having a studio and being a fulltime artist, working just for myself. I felt compelled to integrate my artmaking into working with other people, and so I earned a Masters degree in Art Therapy. After years of professional work as an art therapist, I left the field to raise three kids, and as they grew up I had more and more time for my own art making. I have been fortunate to have a studio and to devote myself fulltime to making art for many years.
What is your art addressing? What kind of message do you want to convey through your art?
I strive to put the most authentic impulse and content into a painting. I want my work to feel "true" to whatever I am trying to synthesize in the moment. For me, the act of painting is a form of thinking and making sense of being alive. I paint to make sense of the energy inside of myself and that which I perceive in nature and in natural processes. I hope that I am able to create poetic moments in my work that evoke emotions, perhaps unnameable.
"I strive to put the most authentic impulse and content into a painting."
What kind of emotions do you want to stir in your audience?
I want viewers to experience a reverence for the ineffable nature of being human, with the enormity of our potential to see, feel, think, make, express. I hope that my individual vision can connect with something universal that may not have been experienced by the viewer but that they will resonate with.
What is your creative process?
l enter my studio with an openness to what it is that I need to say that day. I begin by mixing colors that occur to me in the moment. I am acutely attuned to the effect that colors in combination with other colors can evoke, even on a very subtle level. This can lead me in the direction toward developing the form and content of the painting. I often stand back from my work and ask "Where did this come from?" This can be frustrating (because I often don't fully understand what the painting is trying to tell me, or what it is trying to be), but it can also be exhilarating in that I feel that I am tapping into something beyond myself.
3 words to describe yourself as an artist
colorsmith, intuitive, storyteller (ambiguous narratives)
3 words to describe your art
biomorphic, geometric, color-focused
Your go-to music for when you're working?
I listen to a wide range of music, and depending on where I am in the process of a painting sometimes I need silence so that I can really tune into my own process without external input.
VIEW WORKS FROM THIS ARTIST
Favorite movie or show?
Scandinavian TV series (too many to list! My current favorite: Seaside Hotel) To Kill a Mockingbird is a favorite movie. The theme music is so beautiful and poignant and the story is moving.
Favorite color?
Many shades of blue leaning toward green.
Do you have a routine or ritual for when you're working?
I always have a sketchbook close by for jotting down an idea of a shape or pattern, or phrases that I find evocative. I spend a lot of time looking at work in progress from across the room to try to understand what it's trying to say, or to figure out what to do next. I take photos of work in progress at the end of each day and can look back on how a painting evolved.
Where / When / How do you get inspired?
I'm always gathering visual information. I'm endlessly fascinated by color and colors in combination. I get great joy from looking at patterns and design in nature. I love walking in the woods, I'm obsessed with clouds and how exquisitely beautiful and varied they can be-- looking at the sky is something that humbles and opens me.
What makes you happy?
A great cup of coffee, a meaningful conversation, spending time with my grown children and their partners and my grandson, seeing art out in the world (museums and galleries), a hike in the woods, reading a book that is so good I don't want it to end. When I stand back from a painting and realize that it is finally done, and that I'm pleased with it.
How has your art changed throughout your career?
It took me several years after finishing my Masters degree to get back to making my own work. I began making assemblages that were often surreal figurative entities. I transitioned to painting in encaustic. My earlier paintings had a certain emotional heaviness, my palette was rich but more muted than now. I focused on geometric abstractions for quite awhile. These also seemed more like emotinal entities than mere geometric designs. My paintings have always had some suggestive narrative elements as well as abstract passages. When the Covid lockdown happened I began to work only on paper, cranking out series unlike anything I'd done earlier (a series of "Studio Visitors"--a wide array of masked and veiled characters who "came to visit" when actual people couldn't. I went on to make a series of "Alernative Botany" studies).
VIEW MORE WORKS FROM THIS ARTIST