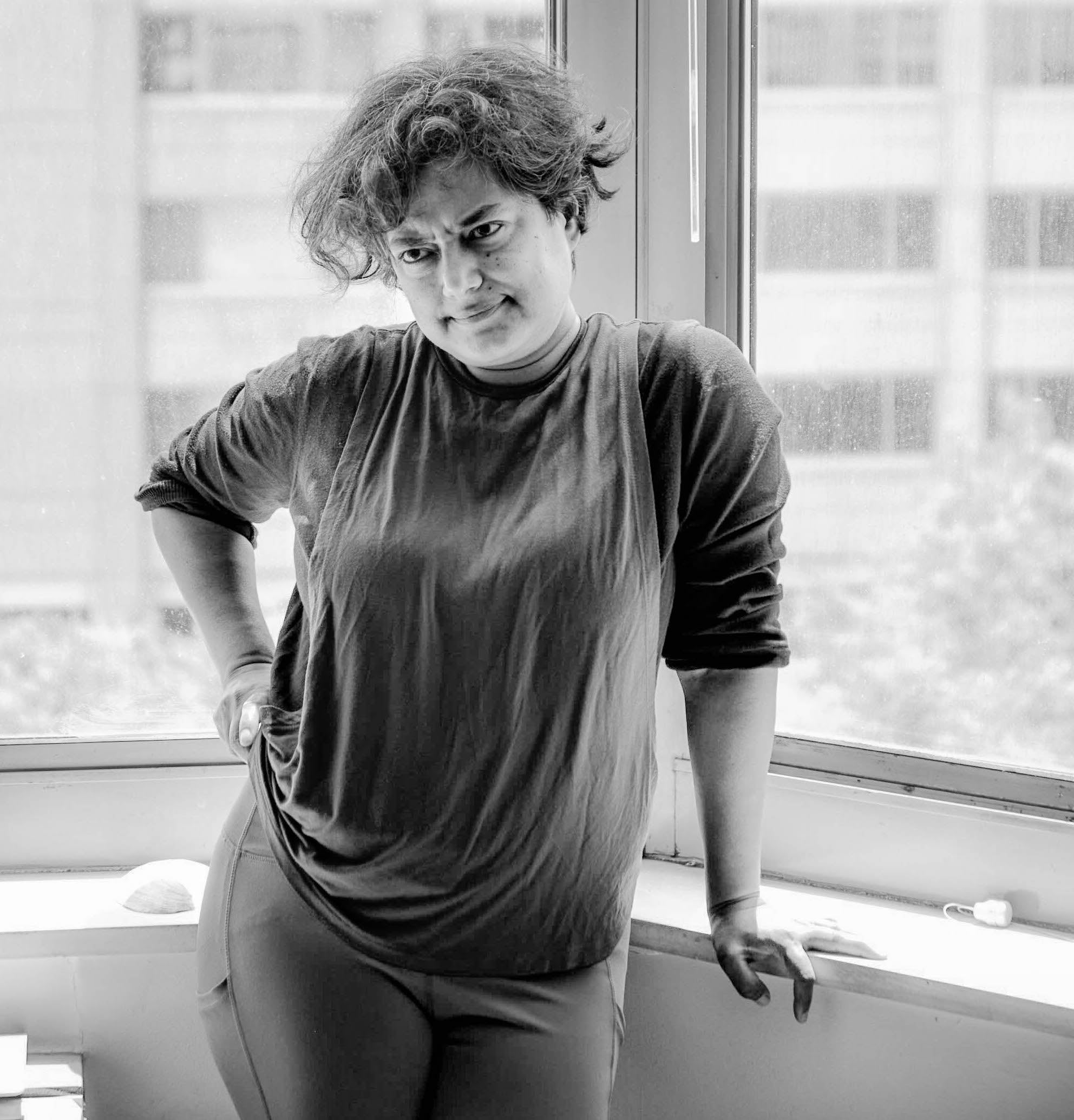 Born in India, now a New Yorker, Rita BasuMallick travelled all through her life, lived across cities and went on internalizing different ways of living. She trained in painting at New York University, and New York Studio School. Rita's paintings are expressions of her way of seeing life, a harmony of emotions, cultures, and nature.
I'm just noticing that in that painting, the colors are almost like the colors of the cityscape outside the window. And that painting next to the lamp has a similar pattern to the lamp. So I wonder if your surroundings influence you at all. 
Absolutely. I paint in late evenings so that kind of lighting affects my mood. 
For example, this is one painting from a pair: cityscape from day and cityscape from night. 
This painting was done in one evening, just one evening. If you come closer, you'll see the texture. It's all about texture and brushstrokes.
Speaking of which - I don't sketch. I paint directly. Any shape you see is created by brushstrokes. This one, I just did over one night. 
Do you usually paint that fast? 
I usually paint that fast! But what I do is wait and see if it's complete. 
There's a difference between paintings, of course. Some are more about color and strokes than about particular strokes. In that case, they didn't need much blending, just layers of color - which reflects my experimental way of painting. Whereas some have a lot of blending going on, which may take one or two more days. 
It's also how I evolved my style.
Here, I played a lot with lights. Now, this one - this reflection painting - there is a lot going on with light here. So it took me longer than usual. The reason is, there are underlying layers, then over and over to let the light come from within. 
Is that also an imaginary landscape?
Most of mine are imaginary landscapes, except for this one that depicts the harbor. 
Most of my paintings, I try to capture the feeling of it. I keep saying that my paintings are all about how I feel - whether it's figurative, Impressionist, or abstract. It's all about creating positive energy. That's what I try to bring into all of my paintings. 
In what specific ways does Impressionism influence you?
This one, which is a painting of wetland, I created in a unique way that I'd love to mention. I put a red color here then I put another color on top of that - so that you can see the violet light coming out from within. The entire painting is about the light. That's what Impressionism is all about to me, strokes, light, soft and loose.
But one thing about Impressionism is that it came with the possibility of plein air painting, with the invention of tube paint. So it seems like you took their style but not direct observation. 
I don't have the luxury of getting a lot of nature around me, but nature is not just green, you know. The sky in the evening has so much color, and my neighborhood has a lot of young crowd so it keeps the energy up which gets reflected in my painting. 
What other stylistic experiments have you been doing?
Couple of things I've tried is experimenting with pointillism.
The other thing I do is experiment with pastels. Pastels are more about quick painting.
This one is called The Leap. It's about jumping over hurdles - how we keep striving. 
Which painters influenced you most? I see two Van Gohs in your apartment. 
I think my paintings are more influenced by Monet. 
I did have short formal training from the NY Studio School but I study a lot of paintings. 
How do you merge the abstract and figurative parts in one painting? 
That painting I put in my husband's office, I tried to experiment with folds and a lot of contrasting colors to make a fluid composition. Then, next to the abstract elements, I put a figure. I thought about how feminine I should make that figure - a lady waiting inside, looking out, at the light peeping thru the curtain .... can't wait to step out into the bright beautiful world. So there is life - a living character - that merges the abstract and figurative. 
Some paintings I built only with palette knives, no brush. 
I'm seeing a lot of little figurines. Do you travel a lot? 
Yes, I was fortunate to travel a lot. I've traveled to Norway, Hawaii, Alaska, Netherlands, Switzerland, Spain, Thailand, London, and Mexico. These figurines are from Nepal, Bhutan, Iceland, and Italy. This art is from Kenya. The string instrument is from India. 
If I'm correct, you originally went to business school before going into art. Does that affect the way you approach art?
I am a CPA, and an MBA from NYU Stern. which did a couple of things to me. Painting is not just about me, it's about the person you're interacting with. You have to think about what the person is looking for. I think business school taught me to value the other person's perspective. 
I also think about commercial value. Paintings are very abstract and subjective - even a famous artist's works must have that one thing that comes through to the audience, which can be different for different artists. 
"Painting is not just about me, it's about the person you're interacting with. You have to think about what the person is looking for. I think business school taught me to value the other person's perspective."
What are your favorite spots to go see art? 
O, for the Masters, plenty– MoMA, MET, Guggenheim, Whitney... I do drop in anytime I like. As for the European Museums I had the opportunity to visit, to start with Louvre in Paris, Reina Sofia and Prado in Madrid;  Rijksmuseum in Amsterdam, or for that matter, the Vatican Museums. And for the emerging one? Instagram... (laughs).